Posted by Paul Hoyle on 14th Sep 2023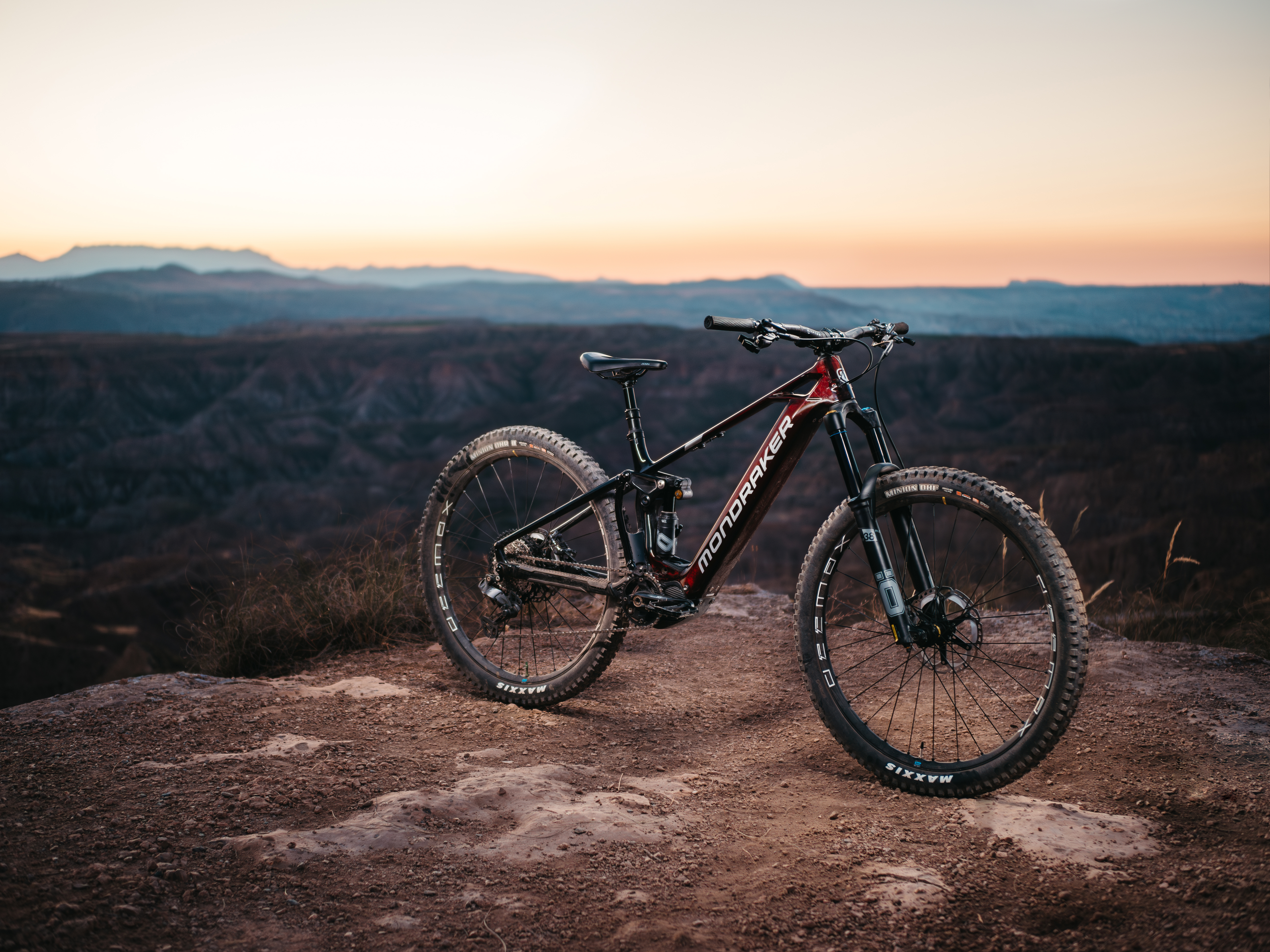 Meet The New Crusher
You're the kind of rider who craves the thrill, who hungers for that rush of adrenaline, who thrives on pushing their limits with sheer determination. That's why we are absolutely convinced that you are going to fall head over heels for the all-new Crusher. It's not just an enduro e-bike; it's a powerhouse of style, resilience, and limitless potential. Allow us to introduce you to the CRUSHER – a force that knows no bounds.
Cast your mind back to 2017 when Mondraker set the e-MTB world ablaze with the very first full-suspension, carbon fiber-framed e-MTB featuring an integrated battery – The Crusher. Now, the Crusher is back, and it's taking inspiration from one of our shining stars, the Crafty, to deliver an electrifying experience that's second to none.
Picture this: The Crusher is a beast of an enduro bike, boasting 29-inch wheels that are ready to conquer any terrain. It's equipped with a whopping 150mm of rear wheel travel, complemented by a 160mm fork to soak up the gnarliest obstacles. With Shimano's EP801 motor under the hood and a seamlessly integrated 720Wh battery, you'll have the power to take on the world.
But it doesn't stop there. The Crusher rolls on beefy 2.6-inch tires and sports forks with robust 38mm stanchions on all three models. This machine is tailor-made for those who crave aggressive enduro adventures and epic, never-ending days in the saddle. With the Crusher by your side, you can truly STOP AT NOTHING. Get ready to unleash your inner riding warrior and conquer the trails like never before!
EN600 Display
And A 720Wh Battery

All three Crusher builds come with Shimano's EN600 high-contrast full colour display which shows you which of the modes you're using (ECO, TRAIL and BOOST for normal riding, or WALK mode if the trail becomes unrideable) as well as all of your settings menus etc. The modes can be switched between via a bar-mounted controller, located next to the handlebar grip, which also serves to scroll through the display menus when stationary and includes status lights to show your battery level and mode selected at a glance. All three builds come with the same 720Wh integrated battery, located in the downtube for optimal weight distribution. The top of the range build, the Crusher RR showcases one of the most revolutionary technologies to come from Shimano in recent years: FREE SHIFT (only available on bikes with the EP801 and the XT Di2 rear mech). Thanks to FREE SHIFFT you can change gears without pedalling, by which we mean the motor drives the chain (rotating the chainring) without you turning the cranks, thus allowing the appropriate gear to be selected even when, for whatever reason, you can't turn the cranks because of the terrain. It's perfect for the times you can't pedal at a certain point on the trail (there's a big rock to negotiate) but you know that you need to be in a different gear for the next section of trail (a short sharp climb).
EP801 Motor;
For Shimano Lovers Everywhere

Get ready to be blown away by the ingenious design of this system, which boasts not one, not two, but three incredible assistance modes! It's like having a symphony of power at your fingertips, each mode tuned to perfection to cater to your every riding need. Whether you're looking for a gentle nudge to ease into your ride or a turbocharged boost to conquer challenging terrain, this system has you covered.

But the excitement doesn't stop there. Picture this: You're out on an adventure, and suddenly, you need a little extra help off the saddle. That's where the walk assist feature comes into play. It's like having a trusty companion by your side, effortlessly guiding you forward on foot.

And that's not all – this system is designed with modern convenience in mind. Say goodbye to the hassle of running out of battery on your devices because it comes equipped with a USB-C charging port. Now, you can charge your gadgets on the go, ensuring you stay connected and powered up no matter where your ride takes you.

In summary, this system isn't just intuitive; it's a game-changer. With its array of assistance modes, walk assist, and the added bonus of a USB-C charging port, your riding experience is about to reach a whole new level of exhilaration and convenience. Get ready to embark on a journey like no other, where innovation meets excitement with every pedal stroke.
Click here to view our full range of Mondraker Crusher's
Find your electrifying ride:
Enduro focused
lightweight mid powered e-bike.

● Lightweight
● Carbon frame
● Surprising range
Full powered enduro focused
e-bikes - all day capable.



● Full power
● Carbon & aluminium frame
● Bosch Powered

Our biggest hitting e-bike.
BIG MOUNTAIN:

● Big hit capable suspension
● Full-power
● 750Wh battery